In February of 1999, my grandmother, Marjorie E. (Huston) Dexter passed away.  It was rather sudden for those of us who weren't involved in her life on a day to day basis, because we hadn't seen her issues increasing.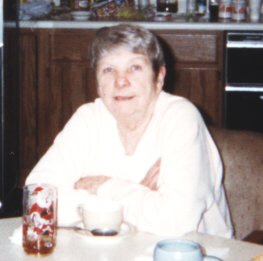 But Grandma had her own way of doing things.  She kept some stories to herself, embellished a lot of others.  She was the one, though, that really got me started on this quest, so for whatever else may have happened to her or during her lifetime, she gave me this gift of interest in our heritage that I will never forget.  The skeletons and the joys that crop up are what they are — pieces of a history that make up the rest of us in one way or another.
Before she passed away, I had been doing family research-mostly just mythology — family stories and anecdotes with no documentation to go along with them.  In 1997, 20 years after I had started (and none to seriously, at that), I got my first computer and shortly thereafter discovered FamilySearch.org and Ancestry.com along with Cyndi's List and other online sites dedicated to helping searchers put family documents into their hands to validate those connections and eliminate the myths.
I had built the ahnentafel (the tree itself) to a few hundred individuals, primarily my direct family on both sides and had tons and tons of questions.  I was hitting a lot of brick walls, but had not yet made a valid connection across the pond.  I saw a few primary families I was questioning-some in Leicestershire, some in Staines.  I just wasn't connecting with the right person to help me validate those ideas and families.
Then, within a few short days after Marj's death, I received an email in response to one of my online queries from Roger Connelly.  Roger identified himself as a cousin on the Dexter side-his connection was through his mother-and my great grandfather's mother, Mary-who were Dunlap sisters. He had been developing his Chamberlain family lineage and George James Dexter cropped up as the spouse of one of his aunts.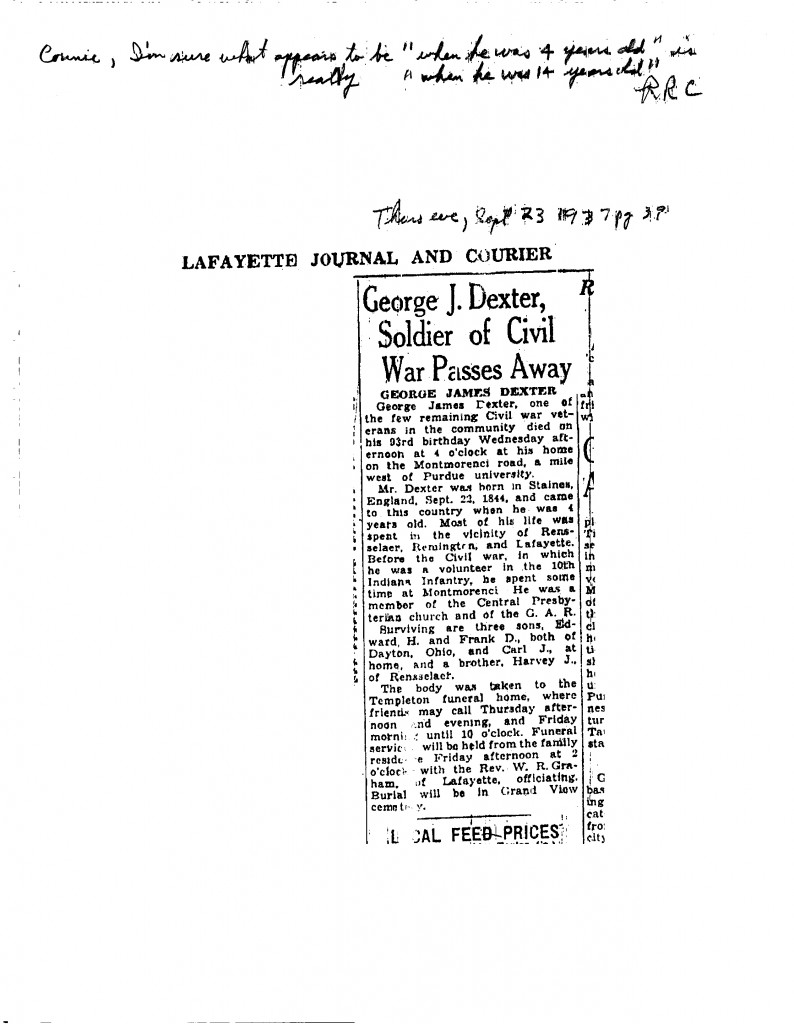 He passed on a copy of George's obituary and more – the clues from which were invaluable to connecting the families, discovering more about his military history and learning about his death and burial. The hints about his family's immigration were not correct, but close enough to work with, and his birth location gave me a direct verification to the Staines clan.
At that point, things really started happening.  I quickly connected with Alan King (Shepperton, Eng),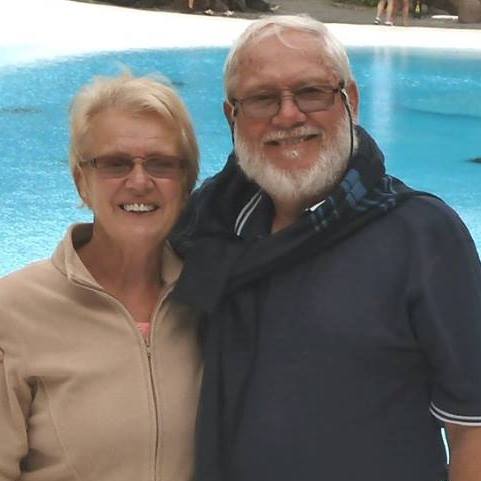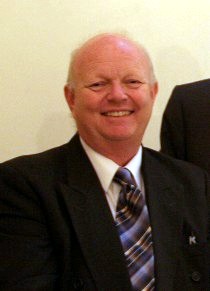 Noel Bye (then of Tasmania) and Bill Guest (Wellington, NZ), all of which significantly helped put puzzle pieces together and to the list of cousins and interested local historians.
Noel confirmed his connection with the Staines clan and then somewhat fell off the radar.  But Bill, who was connected to Noel's family lineage, was able to give me the appropriate 1850 Census records that started bringing more of the Staines clan to reality.  We stay in touch and he has contributed the wonderful story that his wife, Sue, put together from the letters of Eric Standring, available for Site Members to read. (Be sure to request the password by emailing request@dextergenealogy.com!)
When Alan came into the picture, he, as a local Staines historian, had been conducting walking tours of the area and noticed the Dexter name — and then my inquiries.  He corresponded with me and also provided more fleshed out details after visiting the local churches that kept cropping up in Dexter stories — specifically the Independent Chapel, that the family was so instrumental in building and growing.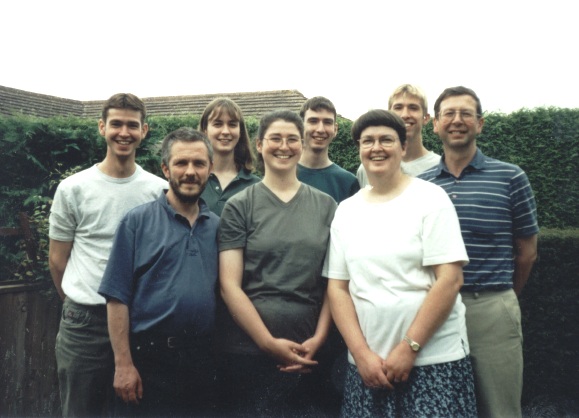 More details emerged as David Leonard Dexter (Newent, Eng) and Dave V. Dexter (Neenah, WI) brought more information out.  The Dexters of Staines remained involved in their community and church – and helped to start the first fire brigade of Staines.  The Spelthorne Museum has a dedicated area for the Fire Brigade and contains a great deal of information about the Dexter involvement.
With help from David L., I was soon in touch with Kenneth Dexter.  Ken's line had a bakery with wonderful reputation.  Ken grew up in that environment and wrote his family's story, (currently available on Amazon.com) "A Fleury Business".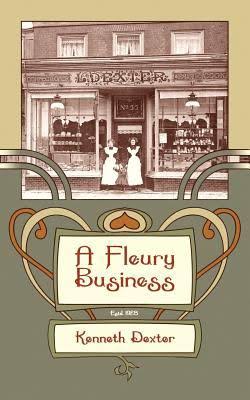 George Dexter (not George James, but this generations' own George) is also a significant gatherer of our family's history.  It was he who got us past George Dexter, the tallow chandler and his son Thomas and Susannah, among the earliest founders of this family line that we have uncovered so far.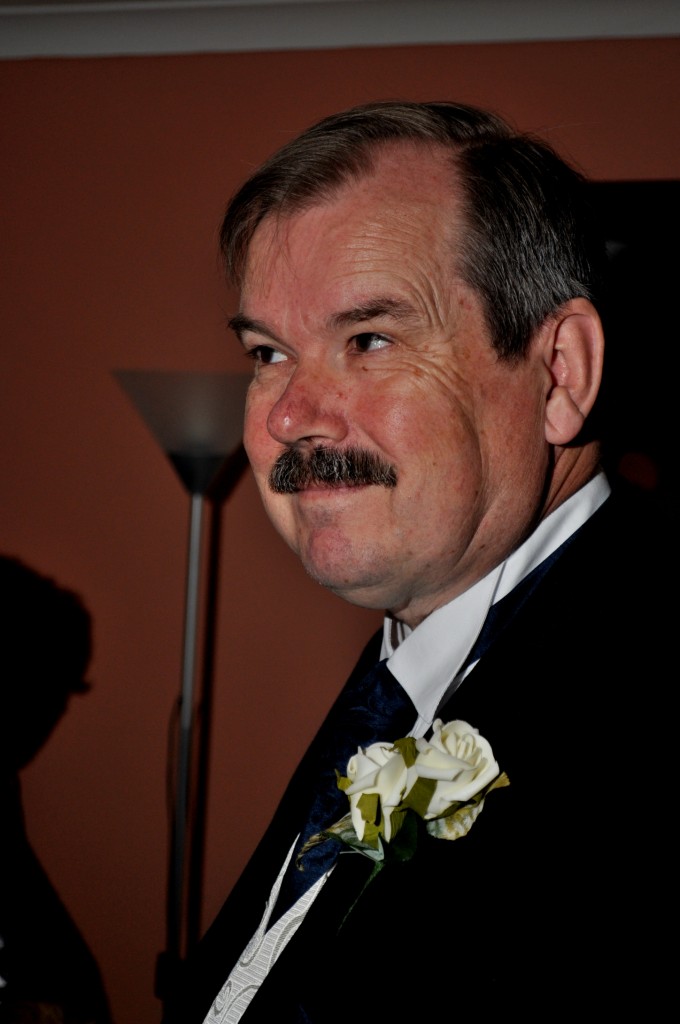 I hope you will come back and read up more on the family.  Despite the time it takes to put information together, our collaborative efforts are great fun and full of wonderful information.
Also, for those who are researching outside of the direct Dexter family lineage, your stories are part of the heritage of our family as a group and are no less valuable.  Please feel free to grow your own branches as well — Be they Rutherford, Keifer, Huston or Bruer (for my own line), or Bye, Standring, Pease, or Taylor, Connelly/Conley, Chamberlain,  Swan, etc.  It is through the richest of stories that our own unfold!
***********************************************************************
I hope that each of you will take some time and will author your own stories here.  If you have questions on how to do it, let me know.  Each of you who have joined here can write and submit your articles easily.  You retain authorship and all copyright is in your own name.
I suggest to each of you to write a brief author's statement which would include 1) who you are, 2) where you are 3) how long you've been doing this and 4) how you can be contacted for more information (if you wish to be contacted).
For each of you that are involved, our site will grow richer than before.  I hope you will.